On Sunday, April 23, 2023, members from ASEZ WAO, gathered at Maria Hernandez Park in Brooklyn, New York. Despite the pouring rain, they came together for an interborough cleanup at the community park, which is located at the edge of Bushwick, just a couple blocks from Ridgewood, Queens.
About 50 volunteers of ASEZ WAO participated in the park cleanup. They came with positive attitudes, ready to clean up the park, rain or shine. The agenda began with an introduction of the park cleanup from Partnerships for Parks. Additionally, the Office of the Brooklyn Borough President partnered with ASEZ WAO to organize the event. During the introduction to the park, the volunteers learned about the aesthetics of the flowerbeds. Furthermore, they learned about the importance of preserving the public park for the community.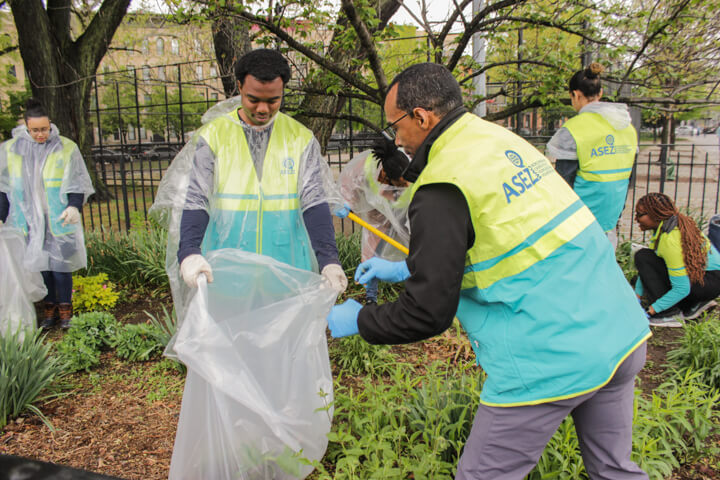 Making a Lasting Impression on the Community
There are only a few park organizations to tend parks in the New York City area. Moreover, there are more than 1,700 parks in the region that are in need of care. Needless to say, New York parks are in desperate need of some TLC.
Additionally, another special guest made an appearance at the cleanup – News 12 Brooklyn. News 12 reporter Jericho Tran and her crew captured ASEZ WAO's effort from the very beginning of the cleanup. It aired later that afternoon on tv and online.
Undeterred by the weather, ASEZ WAO volunteers came together in unity to help fulfill the goal of the city to create a "Central Park" in Bushwick. As a result, they collected about 500 pounds of invasive weeds, which prevent native plants from growing in the curated flowerbeds. They also removed all kinds of rubbish throughout Maria Hernandez Park. Even passersby inquired about the work of ASEZ WAO and commended the members.
ASEZ WAO stands for Save the Earth from A to Z, We Are One Family. They are a global volunteer group consisting of young adult workers from the World Mission Society Church of God. Their hope is that all young people, who are leaders of the future generation, will be able to draw positive participation from all walks of life as they take an interest in preserving the global environment. To view more ASEZ WAO activities in the state of New York, visit our activities page.