In recent years, the Korean wave has taken over global culture. People have become more interested in K-pop, K-dramas, K-food and K-beauty. How did South Korea become so popular?
On December 4, the World Mission Society Church of God hosted a Korean Cultural Experience event in New Windsor. The event featured a walk-through exhibit of Korean history starting from WWII to the present day. The exhibit explained Korea's rapid economic advancement, its impact on the world and the rise of K-culture's popularity. Food booths were also set up for guests to taste authentic Korean dishes like bibimbap, gimbop, hotteok, japchae and kimchi.
A Timeline of Korean History
The exhibit began during the Japanese colonial period in the 1940s. This period was one of the lowest points in Korean history. During Japanese imperialism, Koreans were forced to learn, read, write and speak Japanese. A name-change policy was put in place, forcing Koreans to change their names to Japanese names.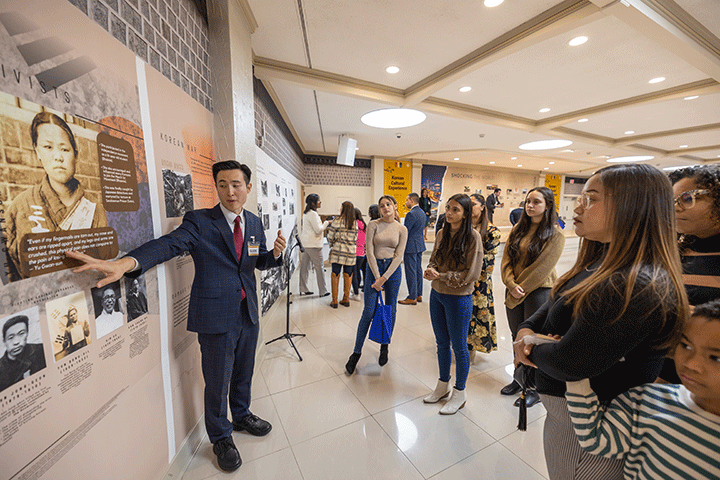 Over the years, many Korean activists secretly protected the Korean identity and its language. Then, at the end of WWII, Korea gained its independence. Five years later, North Korea invaded South Korea. The war lasted three years and wiped out 20% of the Korean population. There was so much damage to the country that it ranked 119th out of 120 of the poorest countries registered with the UN. Economists in the 1960s said that Korea would remain poor forever and would never recover.
Korea's rapid economic growth has been a wonder to the world. The country went from being one of the poorest to now being seen as a global leader in only 60 years. Nowadays, K-pop, K-drama, K-beauty and technology coming from Korea have become more popular. In 2016, BTS became the first Korean band to be #1 on the U.S. billboard. Moreover, the movie Parasite became the first Korean film to win at the Academy Awards, and the Korean drama show Squid Game became the most-viewed Netflix series of all time.
Getting the Full Experience of Korean Culture
After learning about Korea's history, guests experienced Korean culture through a life-size model of a traditional Korean home. There was also a Hangul writing station where guests learned how to write their names in Korean on traditional fans.
During the event, guests could also enjoy traditional, authentic Korean food on two floors and games. While eating in the upper level, a six-piece orchestra played Korean folk songs like "Arirang," which is included on UNESCO's Intangible Cultural Heritage list twice.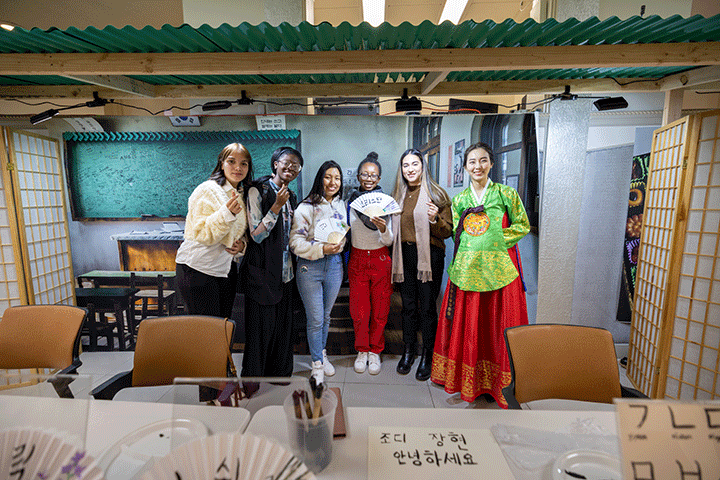 Students from the Church of God's Elohim Bible study club at Penn State University hosted a similar event on November 10. The event featured the Korean history exhibit and a special presentation from the school's award-winning sociologist Sam Richards. After he walked through the exhibit, he said, "I think having an event like this is extremely important because it gives people a very short-term understanding and a deep understanding of a country and a culture like Korea." He continued, "So people can really dip their two feet in the water and get a sense of whether they want to learn more. I think that's really valuable and very cool."
About 300 guests learned about Korean culture — understanding its history, traditions, cuisine, toils, and victories. Similarly, they understood how the Church of God, which began in South Korea, has grown to have an international presence in such a short time.
Looking to join our next event? Stay in touch by connecting with us on social media or contact us for details!