"Hey hey, go go! To the finish line, Let's GO!"
Donning bright yellow shirts and even brighter smiles, about 50 members of the World Mission Society Church of God in New Windsor volunteered at the second annual 2016 Walkway Marathon in Hudson Valley—which includes a full marathon, half marathon and 5K across the historic Walkway Over the Hudson pedestrian bridge. With a 5 a.m. start on June 12, 2016, the second day of the weekend-long event, volunteers began preparing to greet, encourage and serve all race participants to help them reach the finish line.
Volunteer Cory McClellan kicked off the marathon by singing the National Anthem at the 5K race starting point atop the Walkway Over the Hudson Bridge. "You know, it was so nice to start the morning off and to have our National Anthem sung by such a wonderful voice from someone from the World Mission Society Church of God," said Mary Kay Vrba, president and CEO of Dutchess Tourism and a race participant.
The Church of God volunteers helped by manning water and Gatorade stations along the route, placing cones and guiding participant traffic, and encouraging runners throughout the race with loud cheers, signs and pom-poms. They then welcomed racers at the finish line with more cheers, serving food and water in the finish area—all until the final runner crossed the finish line.
Ms. Vrba was impressed with the volunteers, saying, "It's so wonderful to have all you folks out there cheering us on. It was great both at the start and at the finish. So it was a great experience. It was just an enjoyable community day."
Even New York Senator Sue Serino was there to support the runners. "It's great seeing all the people that participate and from every age level." And she thanked the volunteers for participating and cheering everyone on.
Running a marathon, half-marathon or even a 5K is a huge undertaking that requires a lot of endurance, sacrifice and perseverance. Regardless of speed or time, simply completing the race is a big success and lifetime achievement for most.
Each runner has a different story and reason for running; through the race, each suffers from different ailments or pains. But, while their reasons for starting all differ, their end goal is the same—to cross the finish line.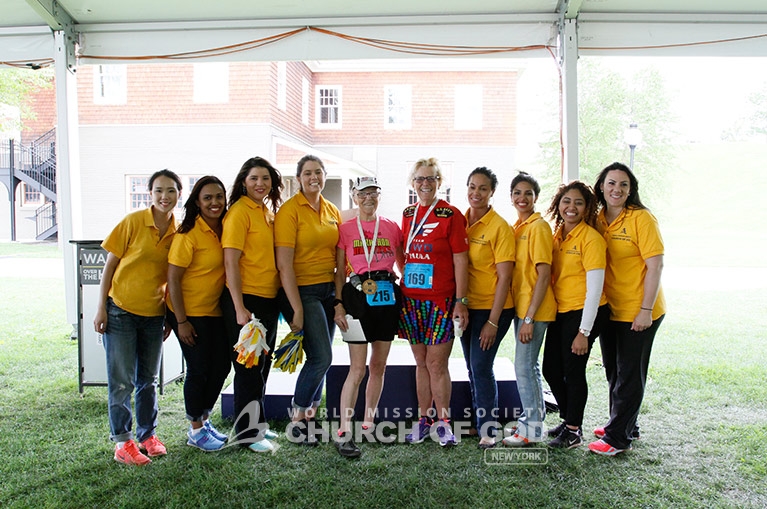 Being there to support and serve the more than 3,200 race participants on their way to the finish line was a great joy and pleasure for the Church of God volunteers. Following the example of Christ, we hope to encourage and support many more runners on their way to future finish lines with the love of God.