East Coast Volunteer Service Day 2016 in Howard Beach
The autumn is upon us, and temperatures are slowly beginning to drop. While the weather is still permitting, Church of God volunteers wanted to clean up the Queens shoreline. On Sunday, the World Mission Society Church of God partnered with the Jamaica Bay Foundation and the American Littoral Society to clean up Spring Creek Park in Howard Beach.
Debris and garbage covered the face of the beach when the volunteers arrived in the morning. The task appeared daunting, but the nearly 75 volunteers in attendance were ready to work. They quickly checked which areas required the most attention and broke up into three groups to cover more ground. With a united heart and mind, the volunteers rolled up their sleeves and got straight to work.
Volunteers had garbage bags, rakes, and picker pins, and even hauled a wagon, to remove as much trash as possible. They collected bottles, glass, styrofoam containers, articles of clothing, fishing nets and other debris. Forming assembly lines, they carried metals and carpets. Meanwhile, on the other side of the beach, some rolled tree logs across the sand. And about 25 energetic volunteers carried a 20-foot log out of the beach.



In the end, volunteers collected more than seven tons of trash in just three hours. They hauled 210 bags of trash across the shore and onto a pickup truck along with 600 pounds of bulky items such as wood and ceramic materials. As a result of the volunteers' preservation efforts, the National Park Service in Washington, D.C. awarded them with a 2016 Centennial Volunteer Challenge Award.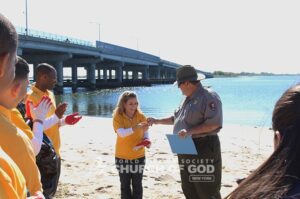 This cleanup was part of the Church of God's East Coast Volunteer Service Day 2016. Volunteers carried out activities in 24 locations on the East Coast, Dominican Republic and Puerto Rico. The East Coast Volunteer Service Day is part of a multi-state campaign to raise consciousness about the importance of volunteerism. This campaign comes on the heels of the Church of God receiving the Queen's Award for Voluntary Service. Winning the award has led Church of God members around the world to recommit themselves to serving their local communities.