Cystic fibrosis is a genetic life-threatening disorder that causes persistent lung infections and limits the ability to breathe over time. It affects more than 33,000 Americans. The Cystic Fibrosis (CF) Foundation, founded in 1955 by a group of parents, is determined to find a lifelong cure. Each year, the CF Foundation brings together more than 125,000 people across the nation to their largest fundraiser—Great Strides—a walk that takes place in approximately 500 locations nationwide.
On June 5, 2016, Great Strides took place at Foley Square in Lower Manhattan and about 70 volunteers from the World Mission Society Church of God were there to cheer on participants and help the event become a great success.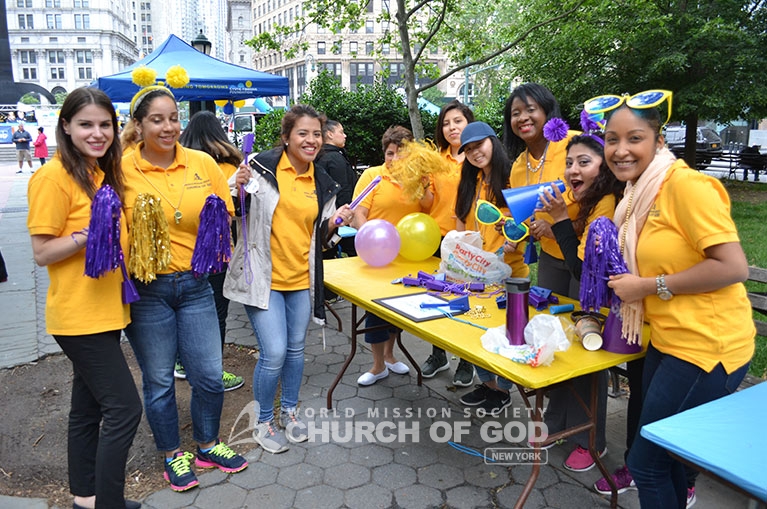 With an early start, volunteers arrived at an empty park to meet the organizers from the CF Foundation. In unity, the volunteers helped unload furniture, prepare tents, tables, signs, streamers and other decorations to convert the raw park space into a beautifully organized scene for all guests to enjoy.
CF Foundation Development Manager Shara Swift commented, "Everyone had a smile on their face and was willing to help with every task, no matter how small or large."
CF Foundation staff were concerned since other volunteer groups opted out of participating due to the day's inclement weather. However, the World Mission Society Church of God volunteers were able to man several stations and, through their hard work, were able to be more than enough support.
Whether it was sharing important information about cystic fibrosis or the event, giving joy through colorful beaded necklaces, smiling, dancing and singing, or inspiring participants through cheers, the Church of God volunteers put their hearts and minds into taking care of every detail of the event. Even as the rain began to trickle down, the members' joie de vivre helped distract from the otherwise unfavorable weather conditions.
As the 5K walk began, the on-and-off drizzle took a turn for the worst and became like buckets of water falling from the sky. Participants mustered up the strength to complete the route and Church of God volunteers continued cheering them on with hand-made posters and pompoms—inspiring them to continue until they made it past the finish line.
Great Strides participants became a testimony of perseverance and one's ability to overcome unfavorable circumstances for the hope of a better tomorrow. CF Foundation Executive Director Martine Denis commended the Church saying that though there were clouds in the sky, the Church of God volunteers brought the sunshine.
Great Strides raised more than $665,000 that will go toward research to find a cure. The event attracted nearly 700 registered attendees and more than a dozen corporate sponsors. Church of God volunteers were grateful that they were able to share the love of God with the CF Foundation and its supporters.